Sandstone Rescue- Desalination & injection process
Similar to rising damp in brick walls, sandstone after years of exposure to ground salts, suffers the same fate of salt contamination which causes the stone to degrade and powder off onto the ground. If left untreated, eventually this will lead to total stone replacement.
The is common in federation homes where bricks sit upon exposed sandstone footings. Traditionally, builders were only worried about moisture reaching the living areas of the property and as such, the damp course (slate or bitumen) was usually placed along the top of the sandstone and then the bricks laid on top. This means, the sandstone, which is below the DPC is in direct contact with the foundations and soil and can be attacked by moisture and salt causing the stone to become soft, powder and go mouldy.
The aim: to lower the DPC to ground level, remove the salts, stabilise and repair the wall.
The replacement cost of the stone can be very costly, so the sooner the issue is addressed, the better
The sandstone rescue process consists of the following steps:
1. Assessment of the stone, mortar joints and adjoining brickwork
2. Drill & inject stone with Westox Silicone Injection Fluid along the bottom course of stone
3. Apply Westox Cocoon poulticing desalination process (Two cycles over 1 month period)
4. Re-point stone joints, patch and clean wall as required
5. Apply a silicone sealant over the wall the stop water absorption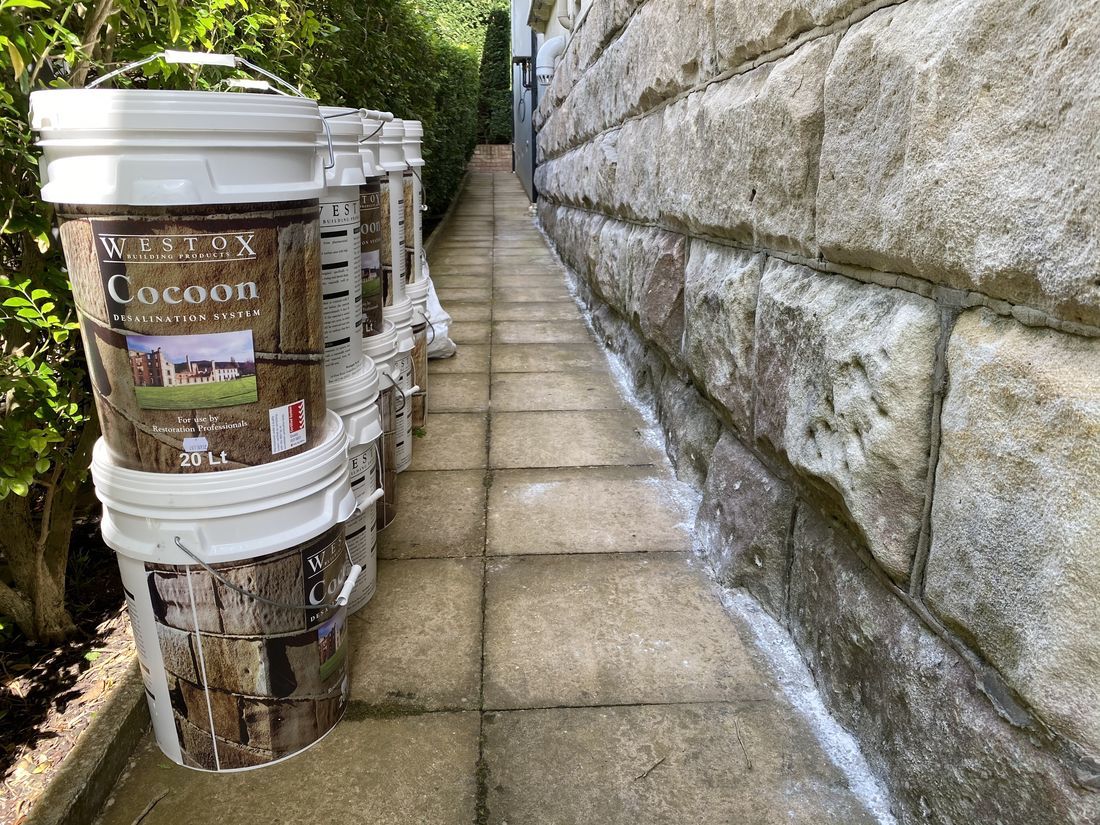 Feel free to contact us for an assessment and quote